Hey Champions,
The Hurricane's trusty, yet beautiful, sidekick has arrived in WWE Champions. Unlock BRAND-NEW Molly Holly with Shards in Grab Bags and chase her Mighty Molly Gear in Milestones!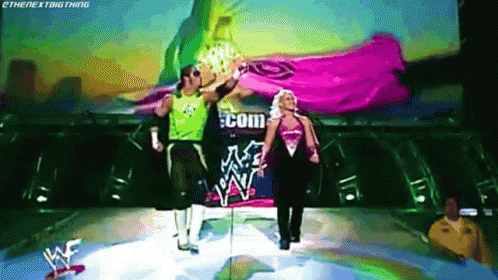 ---
⭐ ONLY on wwechampions.com
Come back DAILY and enjoy FREE REWARDS that will help you in this contest.
---
Please note:
Screenshots are taken from a test environment. Text, numbers, and dates are subject to change!
Schedule
| Contests | Start | End |
| --- | --- | --- |
| Wholesome Feud | 4/15 at noon PST | 4/18 at noon PST |
| Flash ⚡ Market at wwechampions.com | 4/16 at noon PST | 4/18 at noon PST |
| Faction Feud | 4/16 at 4 pm PST | 4/17 at noon PST |
Wholesome Feud
Dominate in Faction Feud to win a Premium Feud Shard Chest, Strap, Medals, and Coins in the Leaderboard and progress in the Wholesome Feud Faction Contests with the Points you earn in the Warscore Competition.
Wholesome Feud Solo Contest
Complete the Limited-Time Tour to progress in this Contest. Spin the Loot to accelerate and earn Molly Holly Shard Bags, Hall of Fame Tokens, Contest Points, and more! Get her BRAND-NEW Mighty Molly Gear as TOP Milestone Rewards.
Warscore Competition
Play the Faction Feud for Warscore points to make progress in this competition. You will find 24,500 Wholesome Feud Faction Points in Milestones, alongside Molly Holly Shards, Tokens, and Chyna "Hall of Fame" Shards!
Wholesome Feud Faction Contest
Talent Up Women's Division Superstars and play the Limited-Time Tour to earn Molly Holly Grab Bags, Strap Parts, April POWERS Points, and MORE for your whole Faction! Speed up your progress by participating in the Warscore Competition!
Limited-Time Tour
Earn Grab Bags and Contest Points for BRAND-NEW Molly Holly "Pure and Wholesome" in this Limited-Time Tour.
5-Star GOLD Loot
Mighty Loot awaits you! Get a chance at BRAND-NEW Molly Holly at 5-Star GOLD including her Mighty Holly Gear with every Poster of her at 4-Star Gold and up! Spin it more for TOP Superstars that help you out in Feud, such as Naomi "Always Shine", Stacy Keibler "Ms. Keibler" or, because why not, Brock Lesnar "Return of the Beast" at 5-Star Silver!
Get more Limited-Time EXCLUSIVES on wwechampions.com
⭐⭐⭐⭐ Do you want to get boosted in this Faction Feud? No Problem, claim the first Feud Boost Step for FREE in the Stamp Card and enjoy 10% Warscore and 40% Kickout Boost!!! Purchase the next steps and benefit from an additional ALL GEM DAMAGE Bonus during the Faction Feud!
Get an EXTRA Chance at a 4-Star GOLD Molly Holly in our FORUM GIVEAWAY! 🎁
Simply join the WWE Champions Community on our OFFICIAL Forum and let us know your constructive feedback on this contest!